Personal Stories
Meet Susan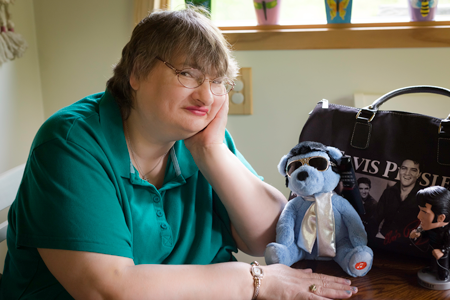 Susan is a woman who is dually diagnosed with mental illness and an intellectual disability. Susan lived with her parents until she was in her 30's. After both of her parents passed away she lived with her brother and his family for a period of time. The level of care that Susan required was more than her brother's family was able to provide. A neighbor took an interest in Susan and after a time, invited her to become a member of their family. The neighbor researched the services provided to individuals with disabilities, made application for Susan to enter the Intellectual/Developmental Disabilities Waiver program, and applied to become a Specialized Family Care Provider. Susan lived in her original Specialized Family Care home for seven years until the provider was no longer able to meet Susan's needs. After a short hospitalization, Susan transitioned to her current Specialized Family Care home where she has now lived for over five years.
For Susan to maintain optimal health and well-being, monitoring and supervision is required. Susan receives help with her general health, medications, doctor appointments, diet, mood, and activities of daily living, like hygiene, exercise, and social activities from her Specialized Family Care Provider.  
Susan has her own bedroom which she has decorated with Elvis, horses, and her jewelry collection. Besides attending a day program five days per week, Susan has a support person outside the family who takes her on outings to events, movies, and shopping for snacks, collectibles, jewelry and makeup.
Susan is wonderfully caring, thoughtful, and helpful. She has a good sense of humor and enjoys a good story. With the efforts and nurturing of her Specialized Family Care Provider and the other people who provide supports, Susan enjoys a happy, enriched, and stable life outside the confines of hospitals.
Meet Chris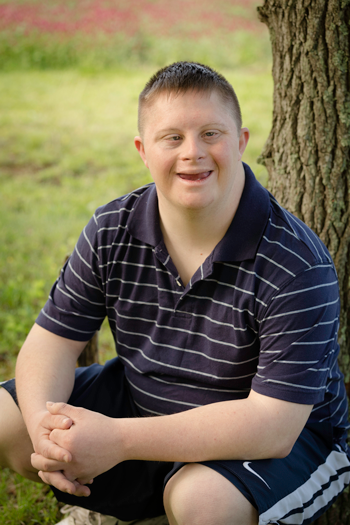 Meet Chris. Chris is a young man with Down Syndrome, who has always lived at home with his mother and receives respite services through Specialized Family Care. When Chris was a young child in elementary school, he and his mother met his current respite provider, Anna, who was a volunteer in the school system at the time. After coming to know the family, Anna offered to have Chris stay with her and her family after school or on occasional weekends while his mother worked or needed down-time. Chris' mother agreed and what followed is an amazing story of two families joining together over almost 20 years to enrich a young man's life and two families with love, friendship and new experiences.
From the beginning, Anna, along with her husband and son, welcomed Chris as a member of their family. From an early age, Chris was especially drawn to Anna's young son, Gary, and the two boys became best friends from the start. They attended different schools after elementary school, but remained close throughout their younger years into adulthood. As kids, they played basketball, football, and video games together and Chris went to all of Gary's sporting events. When Gary left for college, Chris attended several of his college games and even became friends with some of Gary's teammates.
Chris enjoys going boating, hiking, camping, and to festivals with Anna and her family. Despite only being with Anna on a respite-basis, Chris has become such an important part of the family that he is expected by extended family members to attend family reunions and cookouts. He is so much a part of the family that now, as adults, Gary considers him a brother and goes to pick him up so the two can spend time together. The two are so close, in fact, that Chris stood proudly as the best man to Gary and his fiancé as they exchanged their wedding vows.
The experiences and friendships shared have been a rewarding adventure for both families. Chris has ended up with two families with many layers of love and support. Anna and Chris' mother have had the pleasure of watching him grow into a wonderful young man with so much to offer, and Anna's son and his new wife are now working to become Specialized Family Care providers so they can enrich the lives of others the way Chris has enriched theirs.
Meet Patrick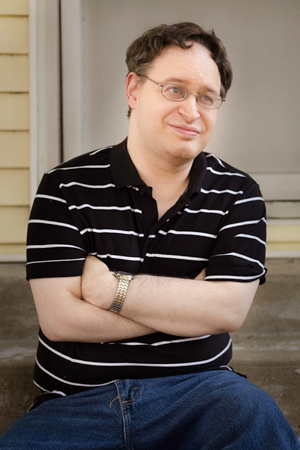 Meet Patrick. Patrick has autism and an intellectual disability. Until 2008, Patrick lived with his biological mother in Texas. She worked hard to ensure that Patrick had every opportunity to achieve his fullest potential. She socialized Patrick, taught him manners, and gave him basic skills. Sadly, after so many years of her life dedicated to the care and growth of her son, Patrick's mother was tragically killed in an automobile accident. Patrick's grandparents brought him to West Virginia following their daughter's untimely death. While they were in good health, they were elderly and began looking for housing and care options that would be in Patrick's best interest. His aunt became his legal guardian and the entire family came together to make sure he had a safe and happy place to live with caregivers who were specially trained to care for him based on his disability.
Patrick was placed in the Specialized Family Care home of Bob and Cathy Ross in 2008. In the Ross home, Patrick is treated as a member of their family and he is very close to Bob's grown children and their families. They are very involved with their church and play in a local Christian music group. Patrick enjoys going to church with them and attending their practices- sometimes he even joins in the music. Patrick just returned from a two week vacation at Dollywood where he had a wonderful time. This was his second trip to that park.
The Ross's have ensured that his natural family has an open invitation to visit with Patrick at any time. His grandparents and other family members visit him regularly at his new home. He has overnight visits with his family members in their homes, has opportunities to go out for a bite to eat with them, and sometimes they just sit with him on the Ross's porch. Patrick enjoys the best of both worlds. He has two families that love him very much and enjoy watching him continue to grow to his fullest potential, as his mother would have wished.
Meet Dale: Specialized Family Care in one Man's Story
By, Teresa McCourt, Interim Program Manager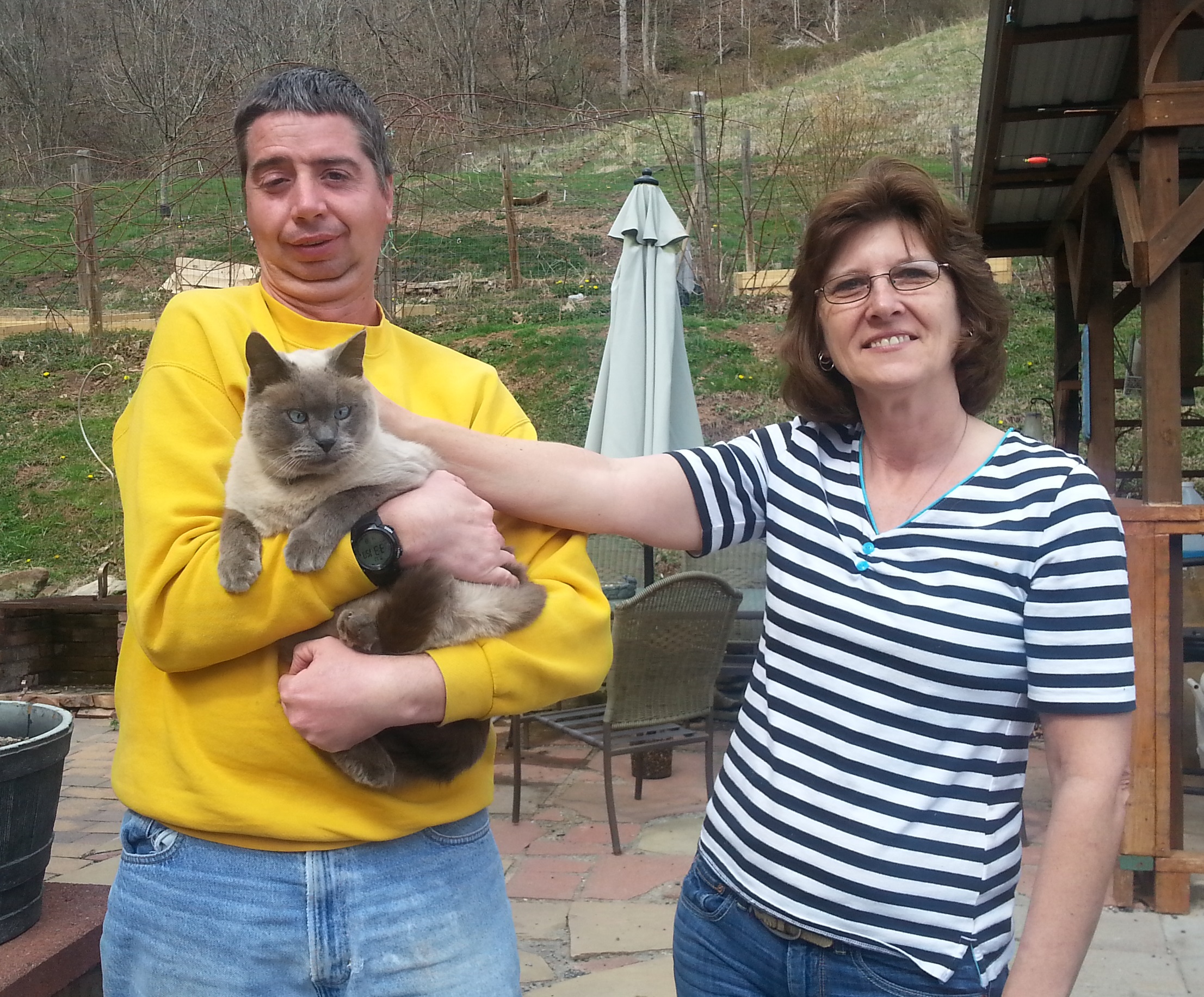 Meet Dale. Based on an intellectual disability and developmental delays, Dale spent much of his childhood and adolescence in Weston State Hospital. Born to parents who lacked the capabilities to care for and parent Dale appropriately, Weston State was likely the best and perhaps only option for Dale's mother to make sure he was taken care of.
While the hospital did provide for Dale's basic needs, it was not an atmosphere that allowed Dale to flourish. Instead, its institutional setting and stark contrast to community life kept Dale from achieving his fullest life potential.
As a result of the Medley Consent Decree (Medley v. Ginsberg, 1981), Dale was released from Weston State Hospital upon its closure in 1994. He was initially placed in Adult Family Care with the Bailey family, which consisted of a husband and wife team with a son and daughter living at home. Based on Dale's specialized needs, the Bailey's were brought into the Specialized Family Care Program and Dale was transferred into our care. He has lived with the Bailey family since his re-entry into the community and has thrived in the home. He is considered a member of the family and is treated as a son to the Bailey's and a sibling to their children who are now grown and living independently.
Instead of a life inside the walls and gates of the hospital, Dale now enjoys working part time in a woodshop during the winter and for the forestry service in the spring and summer months. He also volunteers at a local charity clothing shop, and helps take care of the family property and pets. The family takes regular family beach vacations with Dale in attendance. He boats and camps regularly during the warmer months and is an avid fan of WVU Mountaineer sports and keeping up with weather predictions. He is strong, independent, and is growing more each day.